Project Calendar
Never miss a deadline again.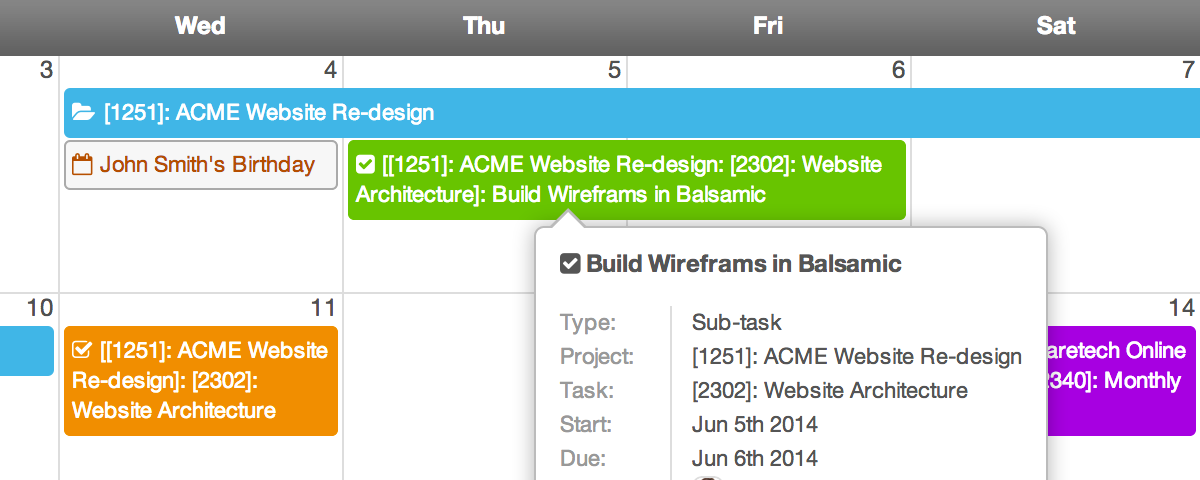 With ProProfs Project you can end up setting up lots of projects with lots of tasks and sub-tasks, all containing different start and due dates.
This is fine when you are just 'getting things done' and working from the list view. However, when you need to visualize what your week looks like in terms of what is due, you need a better view so you can see everything in one place.
This is where the Calendar view comes in very handy indeed. With the Calendar you can see all of your start and due dates (we refer to them as Milestones) and your events by month, by week or by day.
What is an Event? An Event is a date that is detached from projects and tasks, for example a birthday, a staff training day. These can be still be attached to projects though if you wish to only show them to certain members of a project.
Dragging and Dropping
You can easily change the milestones by dragging and dropping them on the calendar. You can also change the length of the milestone or event by dragging the right hand edge of it and dropping it on a different date.
If you want to create milestones or events directly from the calendar you can do this by just clicking on the empty date. A menu will appear with various options, for example Add Event.
Filtering
Sometimes you may find that your calendar is too busy, especially if you are an administrator and you see every single project across the entire bubble. The way to address this problem is by using Filters.

You'll have noticed that in other views, such as the Projects and Tasks view, there are dropdown filters next to the Add button, for example filter by Client. In the calendar view, the filters are for User and for Project.
By default, you will be filtered to All Users and Active Milestones. What this means is that you'll be seeing all users' milestones, but only those that are active (they have the green traffic light status and are open). The benefit of the Active Milestones filter is you won't have a cluttered calendar with milestones that are attached to tasks that are on-hold or in-active.
Much like the other views, you can filter by user and see what they can see (if you are an Administrator or Project Manager), and you can filter to a project to just see milestones for a particular project.
---
iCalendar Synchronization
Automatically export your calendar

If you use another calendaring tool, e.g. Outlook, or Google Calendar, or iCal, as your main calendar then you will benefit from the iCalendar Feed feature.
This feed can be imported by many of these 3rd party tools so that all of your milestones can appear on that calendar with live synchronization. Simply click on the button to open up your computer's default calendaring tool, or right click on the button and copy the link.
Tip: It's important that you are careful when sharing the link as it will contain your API key.
How often does my feed refresh? It depends on the tool you are using to import the feed. Check with your provider. In the case of Google Calendar it can take up to 24 hours.
---
Reminders
Every morning get reminded of what's happening

Sometimes even the best project management solution in the world can't beat a simple email to your inbox reminding you what you need to work on. With ProProfs Project you can enable reminders from the My Account page and we'll send you a recap every morning.
To receive reminders about projects and tasks you need to be assigned to the project, task or sub-task and it needs to be active (open with the green status). Users with the Guest role will not receive reminders, the user would need to have the Collaborator role or above.
How long will overdue milestones show for? You'll be reminded about overdue milestones for 7 days. After that we'll stop hassling you about them.
Timezone Support
Wherever you are in the world, reminders will always come to you in the morning (around 5AM), as long as you set up your timezone. This is a good thing to do anyway, as all dates in the interface are based on this timezone.
Simply go to the My Company page and set your timezone in the preferences section.
Next: Collaboration →