Communication Made Easy With Team Collaboration Software
We aim to keep everyone communicating.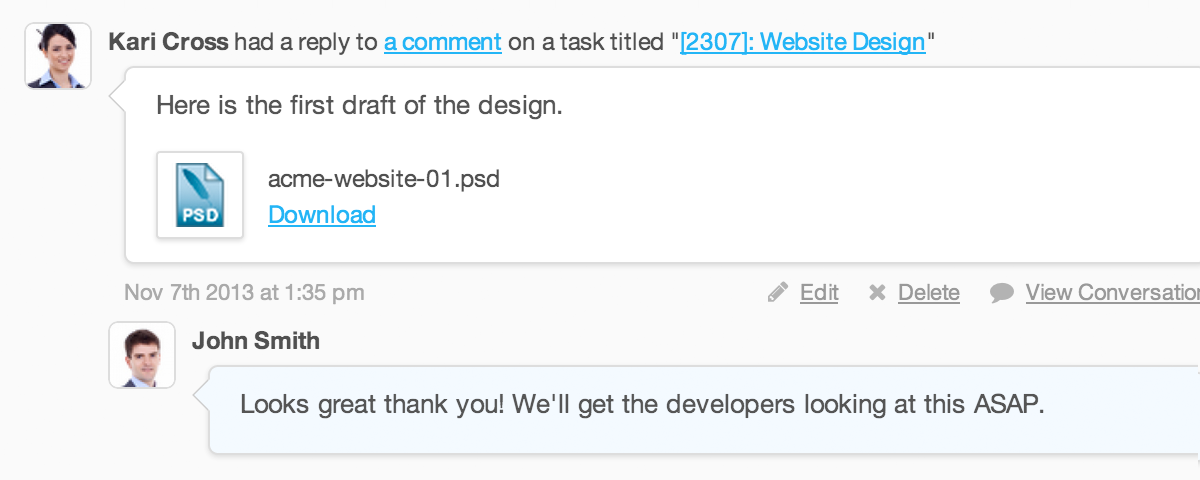 What's the point in having all your users involved in a project if you can't communicate with them easily? ProProfs Project allows you to have relevant discussions on a project, share files, and even threads of your emails to a project. Here's how:
---
Comments & Discussions
When you open the project activity window (by clicking on the project name), you'll notice at the top of the activity feed there is a box that you can write comments in.

When you click the Add Comment button your comment will get added to the project and everyone assigned to the project will receive an email notification which they can reply to via email, or via the web interface.
Tip: You can set who receives notifications by clicking the Edit Project pencil button to the right, and then in the advanced options at the bottom of the page you'll see a setting for Notifications which has various options for this.
Notes
When you check the Notes checkbox, the comment and its replies will be a Private Note. This means that only your staff members will be able to view the comment and its replies, and not Guests. Notes will highlight with a different background color.
Notes can be really useful for private discussions on a project that you don't want your clients (those with the Guest role) to see.
You can also attach a single Note to a project when you edit the project (in the advanced options). This will show as an icon next to the name of the project.
---
Sharing Files
You can attach files to projects in the same way as you add comments.
Simply click on the comments box to create a new comment, then click on Attach File or you can drag files over into this box. You can write a comment or leave the field blank if you wish. Once you are ready to upload click on Add Comment and your file will be uploaded along with the comment.

Your files will be grouped together at the top of the project activity page so you can access all the relevant files for the project. You'll also see files for tasks and sub-tasks here so you can easily find them.
Are there storage limitations? No. You can upload an unlimited amount of files to ProProfs Project. However you are limited to 100MB per file.
Multiple File Support
ProProfs Project supports almost any type of file, from DOC and PDF files through to PSD and MOV files. The type of file uploaded will be indicated by an icon, in the case of most files. Images, such as JPG and PNG, will show as a preview.
If your file is not supported for some reason let us know.
Restricting Files to Certain Users
Remember, files are only shown if the user has access to the project or task that the file is attached to (much like comments). Therefore, if the file is attached to a task or a sub-task and the user can't see this task or sub-task, then they won't be able to see the file anywhere.
Tip: To upload private files, add a new task or sub-task and assign it to a private team (e.g. Management), or to specific users. Then attach your file to this task.
Next: Tracking Time →