Add Project or Users
How to get everyone working together.
To get the most out of ProProfs Project you'll need to invite the rest of your team (or teams) to ProProfs Project. Once they have an account, they will be able to log in and do whatever you or the administrator gives them permission to do.
---
The Users View
Inviting Users
To add a user you simply click the Add User button and enter their email address. Once you click Save the user will be added to the system in 'invited' status, which still lets you add the user to projects and tasks. They will then receive an email inviting them to join your bubble.
Tip: If you don't want your users to have to sign up themselves you can do this on their behalf. Just click the Options button on the user and then click on Goto Signup Page.
Roles
There are various roles that you can assign to your users. Each role has a different set of permissions, ranging from very permissive to read-only:
Administrator
Administrators can set up the company and access all projects regardless of assignment.
Team Manager
A Team Manager cannot set up the company but can access all projects and set up teams. Team Managers can also be locked to a client.
Project Manager
A Project Manager can create and edit projects, but they must be assigned to the project in order to see them. Project Managers can fully manage tasks for their projects.
Task Manager
A Task Manager can create and edit tasks, but they must be assigned to the task in order to see them. Task Managers can fully manage sub-tasks for their tasks.
Collaborator
A Collaborator is responsible for working on tasks. They can set the progress and complete them, but they cannot make any changes.
Guest
A Guest can view whatever they are assigned to, but they cannot make any changes at all. Guests, like all roles, can place comments and upload files.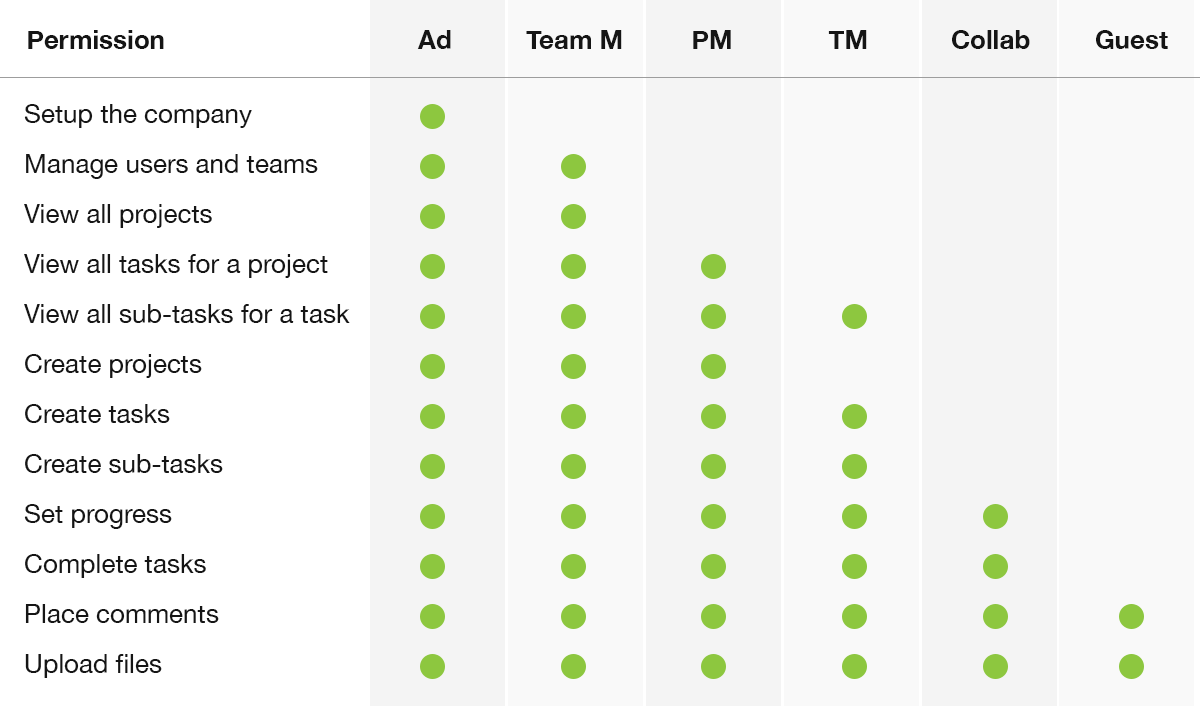 What's a Superuser? A Superuser is the person who originally created the organization's account and has access to the billing information for the company. The Superuser can only be changed by contacting us.
Other permissions can be set up when adding or editing users, for example the access to Reports,Time Tracking and Clients. These permissions usually permit full access, read-only access, or no access, however some allow the user to have a Limited Access which means they can make basic changes. See the tooltip for more information.
---
Teams

Teams allow you to group users together in to a team. Once a team is created it can then be assigned to projects, tasks and sub-tasks. Setting up teams of users can save lots of time as you won't need to assign each user individually every time you set up a project.
Setting up a Team
From the Teams view, simply click on Add Team and you'll get a form that allows you to set a team name and a color. You can then pick which users you want in this team. Users can be a member of multiple teams at the same time.
Assigning Teams
When you assign a team to a project, you'll notice that when assigning users to tasks, only members of that team will show in the user picker. This will make the list of users a lot smaller and easier to manage for tasks and sub-tasks.
Privacy in Teams
Users won't see other users outside of their team, unless they are an Administrator. This gives a level of privacy and focus, for example a project manager working on a development project will only see those in the development team when adding tasks.